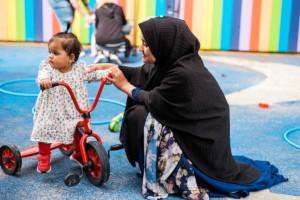 The 1,001 days from pregnancy to the age of 2 years old is such an important time for babies' development. This sets the foundations for life long emotional and physical development.
The relationship that babies and children have with their parent or carer in this time can determine how they grow in to happy and healthy children and on into adulthood.

In the first year of babies' life, more than 1 million brain connections are made every second as the brain grows!
The way the babies brain develops is shaped by their interactions with others! Babies hear at 24 weeks of pregnancy, recognise familiar voices at birth and prefer the shapes of faces to other shapes!
Building Babies' Brains - Parent-Infant Foundation
Developing a strong bond with your baby and supporting that early development is easy and fun. We have lots of support and resources to help this such as a new baby group called 'GroBrain', a whole range of play groups, accesses to the online Solihull Parenting Guides and fun activities such as the Look Say Sing Play resources.
In Hull our mission is to develop co-ordinated services and support which address the needs of families in this early stage of life, ensuring that all babies have a sensitive and nurturing relationship with their parents and carers, and to lay the foundation for positive lifelong physical and emotional health and wellbeing.
We are doing this by ensuring that support such as accessing -
a midwife
a health visitor
Family Hubs
more specific family support
peer support services
is easy, friendly and co-ordinated well.
We want to make sure that all families regardless of where they live in Hull or what issues they may face find services easy to use and accessible.
All our teams will have received the same training and information around supporting relationships between you and your baby and will therefore give consistent information and guidance.
"Science tells us that a child's experiences from conception through their first 5 years will go on to shape their next 50. It tells us that the kind of children we raise today, will reflect the kind of world we will live in tomorrow. It tells us that investing in the start of life is not an indulgence, but economically, socially, and psychologically vital to a prosperous society." – Jason Knauf, CEO of the Royal Foundation, December 2014